GRP GUIDING PLATES FOR THE BLIND
GRP guiding plates for the blind
GRP hollow body ground indicators are known for their excellent acoustic and tactile qualities. The guiding plates for the blind are resistant to slipping, de-icing salts and temperature, and are easy to clean.
The special production process with UV-resistant resin ensures a long-lasting, uniform surface. Dirt residue, such as chewing gum, can be easily removed.
Technical specifications
Guidelines in accordance with DIN 32984
Slip-resistant in accordance with SRT: 90° to fluting, dry 70, wet 59. Parallel to fluting, dry 80, wet 40
Acoustic perception at 550 Hz
Resistant to all media liable to bear wastewater on public streets and squares
Temperature-resistant during freeze/thaw cycle 30x (-27°C/+22°C) no change.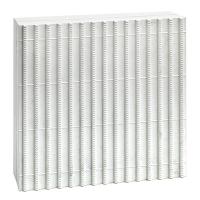 The GRP grooved panel is used for guidance and orientation.
The ground indicator with "grooves" is used on train platforms to signal entrance points and no-go points in circulation areas.
Panel size: 300 mm x 300 mm x 80 mm